On Friday the 24th of April, the playing gathered together on Zoom and Facebook to announce the winners of this year senior averages and special awards on a live stream. There will hopefully be a function closer to season 2020/21 to present our trophies but in the meantime congratulations to our award winners listed below, all deserving winners. Congratulations to also to Tim Money, who gave his presidents address via recording earlier in the week, on his 4 th and final year as president, a magnificent achievement as he moves into =3 rd all time in years served as president. Acknowledgement was made of our coaching group (Steve Villani, Scott Gibbs & Jeff Callaway) led by Luke Rosbrook, who gave his address in a recording as well, for their efforts this season which led to 4 sides making finals and the other two sides finishing in 5th place Congratulations to the playing group, led wonderfully by our 6 captains (Andy Villani, Mathew Doyle, Scott Gibbs, Tom Money, Matthew Newell and Robin Parsons) for their efforts and hard work to make this season another successful one, despite us not quite getting their silverware we wanted.
Presidents Trophy – Matt McMaster-Smith (198 Points)
Congratulations MMS on a record breaking season, as he passed Jeff Morgan and Kerrie Johnson as the most runs in a single season for the club, finishing with 856 runs, 11 wickets, 4 catches and 2 runs. MMS finished with an average a tick under 66 with 3 centuries and 5 half centuries.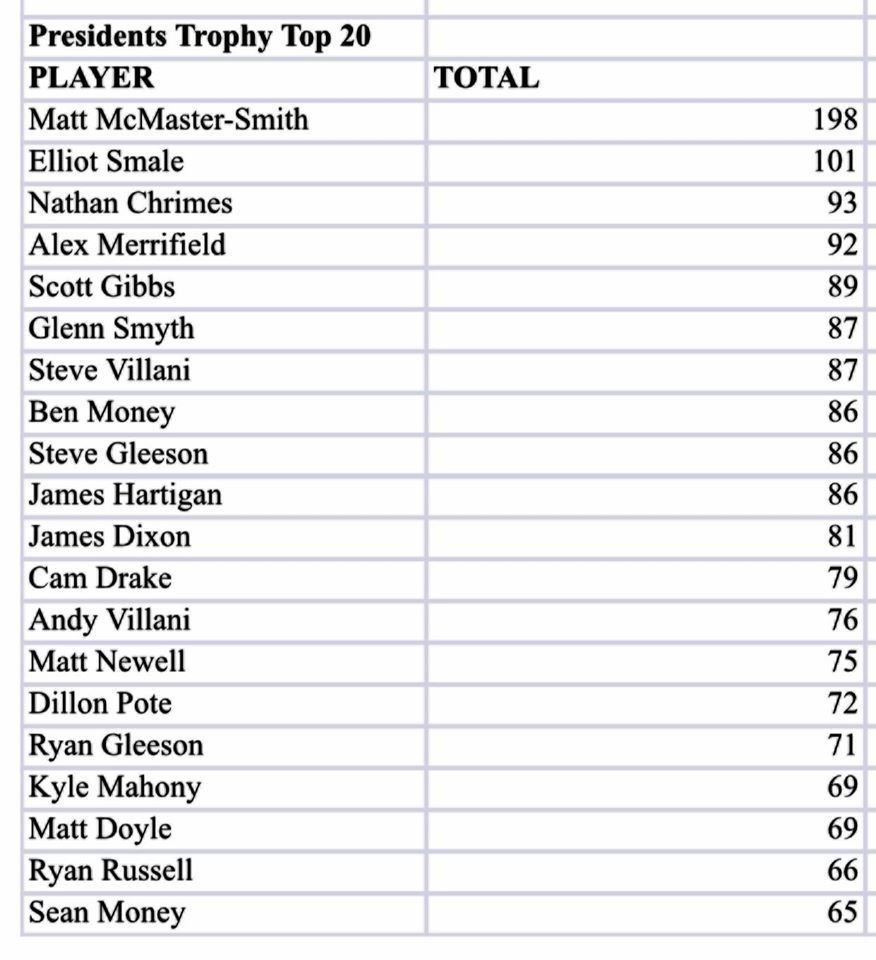 David Hyland Award for Best Clubman – Brett Money
Congratulations to Brett who wins the award for the 2nd time, Joining Steve Bowler, Tim Money and Shane Doyle to win the award multiple times.
Gavan O'Connell Memorial MVP Award – Alastair Broughan
Congratulations to Alastair Broughan for taking out the Vets MVP, finishing with as our leading run scorer with 99 runs @ 49.50, well done to the vets and in particular to Paul Bohan and Matthew Fleming for getting them team up each week.
Batting/ Bowling Awards
Congratulations to all our award winners below, some interesting stats for our winners, thanks to Stevie G!


Steve Villani becomes the 9th A Grade player to win the A Grade Batting 3 times and the 1st to do so in his first 3 seasons
Steve & Andy Villani become the first set of brothers to win the A Grade averages in the same season, and 3rd time across the club (Anthony & Damian Dean 14/15, David & Chris Hoobin 93/94)
Jacob Bowden is the 5th left armer to win the B Grade bowling in the last 6 years.
Ben Jurkovic wins his second 3rd XI batting average in the last 3 years
Ryan Gleeson becomes the first spinner since Dom Smale in 87/88 to win the 3rd XI bowling
Glenn Smyth picks up his 5th senior averages award (2 x batting & 4 x 3 x bowling)
Matthew Amenta win completes the first set of twins to win senior averages at the club
Noah Gleeson's bowling award makes him the 8th Gleeson family member to win a senior averages award and 3rd junior in a row to win the G2 bowling average
Noah & Steve Gleeson are the 3rd father/ son combo to win the averages in the same grade/ same season (Geoff & Sean Money 09/10 Dennis & Nathan Maley 07/08)
DVCA Comp Awards
Congratulations to Scott Gibbs for taking out the D Grade Batting Award, Scott finished with 270 runs @ 54.00 at the end of the home away season. Great work Gibbo!
Well done to our skipper Andy Villani for his 2nd consecutive selection in the Diamond Valley Barclay Shield TOTY. Batting at number 10, Andy finished with 27 wickets @ 27.78 and we'll give him the VC in the side! Well done skip!
Well done also to Dillon Pote for his 1st selection in the team of the year, batting at number 3, Dillon finished with 346 runs @ 31.45. A fantastic achievement in his 1st season at the club, great work Potey!
Coaches Award – Jacob Bowden & Steve Patman
Our co-winners of the coaches award as said by our coach Luke Rosbrook are two guys who contributed in many ways and exemplify the Riverside values. They trained hard, communicated clearly, were selfless at training and willing to bowl that extra spell or help others. Both would arrive early and always assist in setup and moving of gear before doing extra with throwdowns, and would also assist in putting the gear away at the end of the night. Both took feedback extremely well and completely invested in helping their team and the club achievement ultimate success, congratulations JB and Pacman!
Team of the Year
Congratulations to the 13 players who have been selected in the Team of the Year below. In particular to Jimbo who was selected for the 6th time, making equal 2nd all time in selections to the side.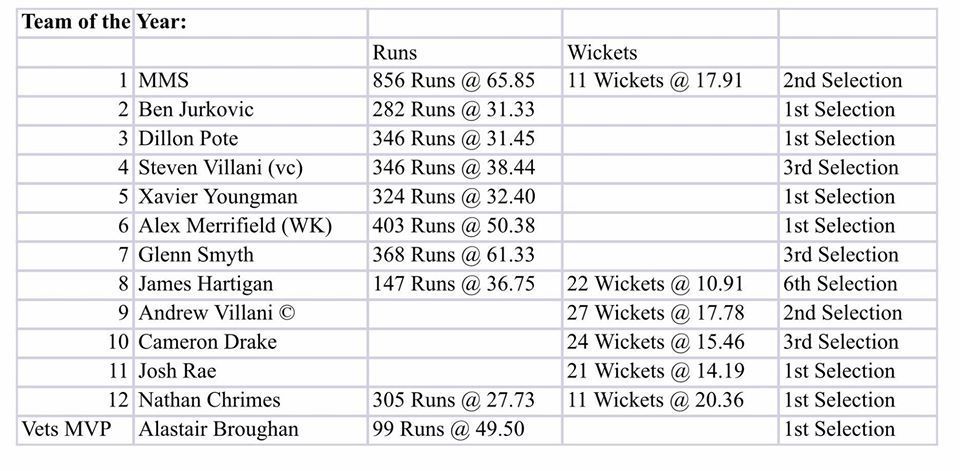 Bernie Rayner Award – Ryan Gleeson
Congratulations to Ryno as the inaugural winner of our best under 18 award. Ryan finished the year with a total of 365 runs @ 24.47 and 16 wickets @ 15.94 for the season as captain of the under 18 side and performances in our 2nd and 3rd XI. Ryan developed his skills with the ball throughout the season including taking 6/14 against Greensborough and playing with a broken hand, also bowling an important spell in the semi-final against Banyule to swing the momentum. Ryan joins his old man Steve (Inaugural winner of Best Under 21) and Grandfather John (Inaugural winner of Presidents trophy in the inaugural winners club!
Ben Brodie Award (Best Under 21) – Dillon Pote
Congratulations to Dillon for taking out our Best Under 21 award. Dillon in his first year for the club, making his A Grade debut (Player no.248) and made an immediate impression, batting at number 3 all year, Dillon proceeded to make 346 runs @ 31.45. Showing amazing consistency, making 4 of his top 6 scores for the season against the sides who made the finals, and fantastic composure when he was out there. Potey has been a fantastic addition to the playing group and we look forward a great 2nd year from you Dill!
Greg Phelan Memorial Award – Ryan Russell
Congratulations to R2, returning to cricket in 2018/19, Ryan pushed himself up from the 4th XI to a consistent and important contributor to the 3rd XI under Gibbo this season, including his B Grade debut this season. Ryan finished with 255 Runs @ 28 and provided a valuable contribution with the ball, taking 5 wickets @ 24.
Jim Fitzpatrick Medal – Nathan Chrimes
Congratulations to Nathan Chrimes who takes out his first Jim Fitzpatrick medal and joins as the 19th member of an illustrious group, with a final round best on ground performance to pass skipper Andy Villani and Dillon Pote. Gary finished with 305 Runs @ 27.73 with a best score of 59 in round 2 against Lower Eltham; 11 Wickets @ 20.36 with a BBI of 3/24 against Rosanna and 6 catches. Congratulations Nathan on a great season and now to go back to back in season 2020/21!