Senior Presentation Night
Well done to all our award winners from our Presentation Night over the weekend and to all who came along to celebrate a fantastic season 2020/21 and present our awards for both this and last season.
Thanks to the Diamond Valley Trophy Centre for doing an outstanding job with all our trophies. Thanks also to the Rosanna Golf Club for one again hosting.
Batting & Bowling Averages
A Grade (1st XI)
Batting - Nathan Chrimes 638 Runs @ 39.88
Bowling - Chris Salm 40 Wickets @ 11.03*
Nathan Chrimes with 638 Runs was the 3rd highest aggregate in A Grade History and the 4th time a players has scored over 600 runs, joining Danny Gleeson (647), Scott Gibbs (648) and Michael Doyle (605) in the 600 club.
Steve Villani with 508 runs meant the first time two players scored more than 500 runs in A Grade in the same season.
Chris Salm with 40 Wickets was the 11th time a player has reached the 40 mark in A Grade.
B Grade (2nd XI)
Batting - Nathan Bragg 520 Runs @ 65.00*
Bowling - Dempsey Mills 21 Wickets @ 13.24
Nathan Bragg became the highest aggregate of runs scored (520) in one B Grade season, passing Ben Money's total of 516 in the 16/17 season. Nathan Bragg (520), Brett Money (474) & Xavier Youngman (420) became the 8th, 9th and 10th time 400+ runs were scored in B Grade.
Dempsey took out his 2nd bowling average, following his 4th XI in average in the 15/16 season
C Grade (3rd XI)
Batting - Scott Gibbs 616 Runs @ 41.07
Bowling - Scott Gibbs 23 Wickets @ 13.35
Scott Gibbs became the highest aggregate of runs scored (616) in a C Grade season, passing Leigh Bowmans total of 577 in the 03/04 season. Taking out his 5th Batting and 6th Bowling awards. Was also the 3rd time Gibbo has won the double in the same season.
E Grade (4th XI)
Batting - Steve Gleeson 250 Runs @ 83.33*
Bowling - Luke Jurkovic 23 Wickets @ 10.91
Well done to Bang on his 2nd Batting Average in a row, taking out the G2 Batting Award last season and also to Luke Jurkovic for his 1st club bowling average.
F1 Grade (5th XI)
Batting - Matt McMaster-Smith 447 Runs @ 74.50
Bowling - Matthew Newell 21 Wickets @ 11.76*
MMS wins his 1st club batting average, MMS now also holds the two highest aggregate runs scored in a season for the club with 751 Runs backing up his 951 Runs from the previous season. Well done to Matt Newell for his 3rd 5th XI Bowling Average in a row.
G1 Grade (6th XI)
Batting - Shaun O'Connor 174 Runs @ 24.86
Bowling - Elliot Campbell 9 Wickets @ 19.78
Well done to Shaun & Elliot on their first senior club averages.
The last 17 batting averages in the 5ths have been won by 17 different players.
Elliot becomes the 4th junior to win the 6th XI bowling in a row
G5 Grade (7th XI)
Batting - Sam Coates 286 Runs @ 71.50
Bowling - Samuel Trainor 15 Wickets @ 16.07
Well done to both Sams for their first club average awards! Our first Average winners in our 7ths since the 2009/10 season.
Gavan O'Connell Memorial MVP Award (Vets MVP)
Rick Bohan - 159 Runs @ 53.00, 4 Wickets @ 17.75
Rick wins his 2nd MVP joining Michael Doyle and Phil Money in 2nd for most MVPs received.
*Competition Average Winner
C Grade Premiership
Congratulations to our C Grade Premiership side again for taking out the clubs 133rd premiership and 13th in our 3rd XIs history. Taking on a grade of mostly 2nd XIs and defeating the top side in the grand final. Congratulations to Scott Gibbs (abs), Dale Juchnevicius, Nathan Hoobin, Kyle Mahony, Ben Jurkovic, Ryan Russell, Aidan Amenta, Jacob Bowden, Duncan O'Connor, Ryan Gleeson, Wesley Mills and Calin Skiba (abs) for their victory.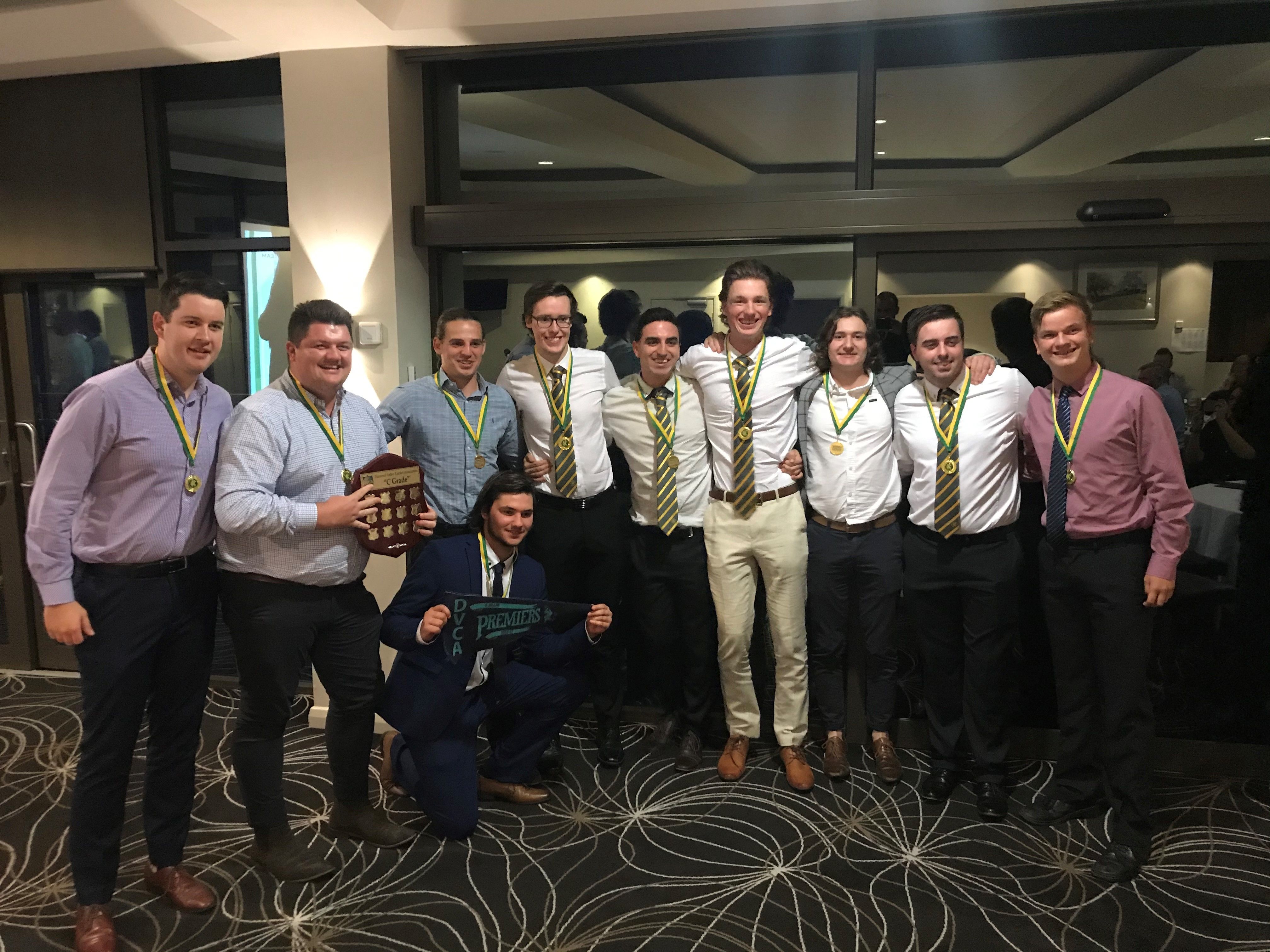 Presidents Trophy
Well done to Scott Gibbs who won his 7th Presidents Trophy (Next best is Dennis Maley and Kevin Lee with 3), which is awarded based on points for runs, wickets and fielding. Gibbo (175 Points) finished the season with 616 Runs, 23 Wickets, 5 Catches and 1 Run Out, beating out Chris Salm and Nathan Chrimes for the award.
TOP 10
1. Scott Gibbs - 175
2. Chris Salm - 166
3. Nathan Chrimes - 154
4. Matt McMaster-Smith - 145
5. Nathan Bragg - 129
6. Steve Villani - 121
7. Nick Ellks - 115
8. Mathew Doyle - 107
9. Xavier Youngman - 104
10. Brett Money - 97
Team of the Year
Well done to the 13 players who have made the team of the year, congratulations to Scott Gibbs with his 1st selection as captain and Steve Villani with his 2nd year in a row as vice-captain
| | | | |
| --- | --- | --- | --- |
| TOTY | BATTING | BOWLING/FIELDING | NO. SELECTIONS |
| 1. Matt McMaster-Smith | 711 Runs @ 59.25 | | 3rd Selection |
| 2. Nathan Chrimes | 638 Runs @ 39.88 | | 2nd Selection |
| 3. Nathan Bragg | 619 Runs @ 56.27 | | 4th Selection |
| 4. Scott Gibbs (c) | 616 Runs @ 41.07 | 23 Wickets @ 13.35 | 7th Selection |
| 5. Steve Villani (vc) | 508 Runs @ 36.29 | | 4th Selection |
| 6. Chris Salm | 395 Runs @ 32.92 | 40 Wickets @ 11.03 | 4th Selection |
| 7. Steve Gleeson | 323 Runs @ 53.83 | | 4th Selection |
| 8. Dayne Smith | | 29 Wickets @ 15.07 | 1st Selection |
| 9. Dempsey Mills | | 32 Wickets @ 15.16 | 1st Selection |
| 10. Luke Jurkovic | | 25 Wickets @ 11.20 | 1st Selection |
| 11. Liam Johns (WK) | | 26 Catches, 4 Run Outs, 2 Stumpings | 1st Selection |
| 12. Will Hewett | | 22 Wickets @ 12.41 | 1st Selection |
| Vets MVP Rick Bohan | 159 Runs @ 53.00 | 4 Wickets @ 17.75 | 1st Selection |
David Hyland Award (Best Club Person)
Congratulations to Kym Ellks, who took out the award for the 2nd time. Joining Steve Bowler, Tim Money, Shane Doyle and Brett Money to win the award multiple times. Kym was acknowledged for her incredible amount of work on the committee, which included running the canteen most weeks, helping out at functions and willingness to assist where possible.
Paula Money Award (Spirit of Riverside)
Congratulations to Kym Ellks as the inaugural winner of the Paula Money, commissioned in honour of the loss of not only one our life members, but an incredible Wife, Mother, Aunty and friend to many at Riverside. Our winner recognises some of the outstanding attributes and acts that best represented Paula: Care for the club, selflessness, going above and beyond for others and kindness. Kym was a deserving winner for all these attributes she demonstrated and more. It was tremendous that Phillip, Josh and Ben were able to present the award to Kym. Well done Kymmy!
Coaches Award
Congratulations to Ben and Josh Money who became the 2nd set of brothers to win the coaches award (Dylan & Lachlan Potter 2012/13). Coach Luke Rosbrook acknowledged their ability to stand up in the face of adversity, continuing to turn up week in and week out with a positive attitude to every aspect of their cricket and strive for improvement every time they did. Their resilience, persistence and general presence making the club a better place.
Bernie Rayner Award (Best Under 18)
Congratulations to Tom Hewett for taking out our Best Under 18 player for this season. Tom played every game in B Grade this season as wicketkeeper, showing great improvement in his keeping and batting skills as the season progressed. Tom finished the season 118 Runs Batting at Number 7, with a top score in the Grand Final of 18, and with 20 catches, 6 run outs and 4 stumpings showing his polish with the gloves.
Ben Brodie Memorial Award (Best Under 21)
Congratulations to first year player Tane Cotter for taking out the Best Under 21 player this season. Tane became the 253rd player to represent the club in the First XI, playing every game this season in A Grade. Tane showed his all-round skills firstly with the bat, making 268 Runs @ 22.33, playing a number of roles from an opening batsman down to finishing the innings off at number 7. Tane also became an important contributor with the ball taking 4 wickets with his leg spin, with his best figures coming in the Barclay Shield Grand Final, taking 2/28 from his 8 overs.
Greg Phelan Memorial Award (Most Improved Senior Player)
Congratulations to Luke Jurkovic who won the award for the most improved senior player. Luke had a fantastic year with the ball, pushing himself up into the 4th XI and finishing the season with 25 wickets @ 11.20. Including a career best of 6/15 during the season. Luke also played an important role at times with the bat, including a memorable partnership with Nick Ellks in the Preliminary Final that included Luke hitting the winning runs to get us into the Grand Final.
DVCA Awards
Well done to the following players who won the DVCA Averages:
Chris Salm - Barclay Shield Bowling Average
Nathan Bragg - B Grade Batting Average
Steve Gleeson - E Grade Batting Average
Matt Newell - F1 Grade Bowling Average
Well done also to Nathan Chrimes and Chris Salm who made the Barclay Shield Team of the Year, Nathan named to open the batting and Chris selected to bat at number 9.
Congratulations also to Salmy (5th 14 Votes), Chrimesy & SV (=6th 13 Votes) for their placings in the Ray Christensen Medal, a great achievement. Congratulations to Adam Tsapatsaris from North Eltham for taking out the medal.
Life Membership
We introduced 3 new life members with Ritchie Mtchell, Tim Money and Kym Ellks becoming the latest inductees. Congratulations to Ritchie, Tim and Kym on their tireless efforts at Riverside over a number of years. You are all very deserving recipients of Riverside Cricket Club Life Memberships.
Hall of Fame
Congratulations to Steve Gleeson who was inducted into the Riverside Hall of Fame by Mick Newell. Steve becomes the 13th Hall of Fame member, joining esteemed company in Raymond Bowman, John Gleeson, Kevin Fitzpatrick, Philip Money, Michael Doyle, Jack Morrissey, Anthony Corcoran, Russell Grubb, Matthew Fleming, Billy Lewis, Michael Newell and Robin Hunt.
Steve played 235 A Grade games between 1990/91 and 2012/13, scoring 3,496 runs at an average of 23.50 with a highest score of 87 and making fifteen 50s with an ability to bat anywhere in the order. Steve took 384 wickets @ 17.54 with his tremendous fast-medium bowling, with best bowling of 6/14 and taking 5 wickets in an innings on 12 occasions. Steve also played in the 1992/93 A Grade Premiership, and was the apart of the match winning 10th wicket partnership of 25 runs on the final day with fellow Hall of Famer Rob Hunt, to get us over the line.
Well done Steve on your much-deserved honour
Jim Fitzpatrick Medal
Congratulations to Chris Salm who took out the prestigious Jim Fitzpatrick Medal as A Grade Club Champion for the season. Salmy finished the season with 395 Runs @ 32.92, with a best of 58* against Lower Eltham in Round 12 and 40 Wickets @ 11.03, with a best of 6/27 against Epping in Round 8. Salmy polled in 14 of a possible 17 games, a great achievement in a grand final season. Salmy becomes the 4th player to win the Medal 3 times, joining Billy Lewis, Elliot Smale and Mick Newell, with Tony Corcoran (5) and Scott Gibbs (7) the other major winners.
Jim Fitzpatrick Leaderboard
1. Chris Salm - 56
2. Nathan Chrimes - 35
3. Steve Villani - 33
4. Dayne Smith - 23
5. Sean Money - 17
6. Dillon Pote - 14
7. Tane Cotter - 13
8. Benjamin Money - 9
9. Dempsey Mills - 4